Toni's Tots drama sessions for children from 18 months of age onward in the South Birmingham area. Full of engaging warm up games, role play, storytelling , music and craft with imaginative play at it's heart.
Each session helps to build confidence, feed the imagination and encourage physical activity. My workshops help children to develop speaking and listening skills as well as social skills- helping the children to learn about working together and sharing.
Each week we engage in a story telling session incorporating drama, dance, music, speaking and listening and arts and craft. The story changes each week to cater for the children's varying interests.

At Toni's Tots drama the children have an opportunity to make noise, sing, and move freely and creatively. For the more reserved children there are quieter times where they can enjoy making arts and crafts to use in our story.
There is a relaxed family atmosphere where children have the freedom and space to dip in and out of the story as they wish. Some like to be in the thick of the action, others may enjoy quietly observing. Whatever way they choose, it's all great fun!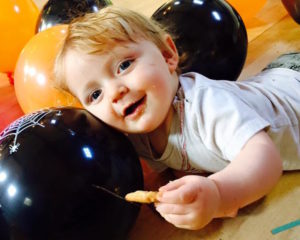 Chill out baby corner
Babies are welcome at Toni's Tots drama. There is a baby corner for younger siblings to play in whilst the session is in progress. Babies are able to attend free of charge until they are old enough to participate at approximately 18months.
Snack time
There is always a snack time at the end of each session giving everyone a chance to chat. Refreshments are provided for both children and adults.